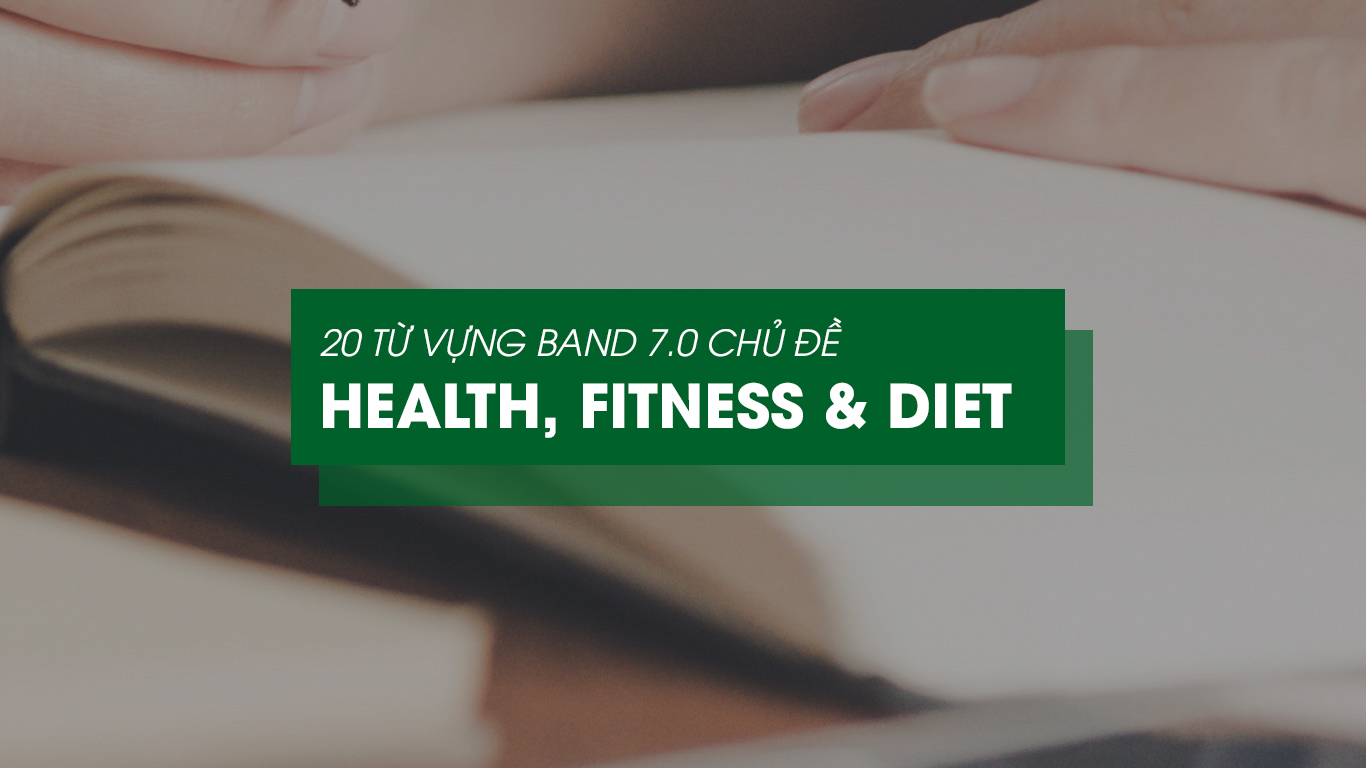 Bài học này sẽ cung cấp cho các bạn những từ vựng tiếng Anh về sức khỏe. Học xong bài này các bạn nên tập thể dục và ăn uống điều độ để có excellent health nhé!
1.Từ vựng
Ex: 70% of the population is now overweight according to official figures.
Ex: Obesity is now a real problems for teenagers.
Eating Disorder – Rối loạn ăn uống
Ex: Bulimia and anorexia are types of eating disorder. Both are becoming more common.
Nutrients – Chất dinh dưỡng
Ex: A healthy diet should consist of all the essential nutrients.
Diet – Chế độ ăn uống/ Ăn kiêng
Ex: It is important to have a healthy diet. People must eat plenty of fruit and vegetables.
Overeating – Ăn quá nhiều, nhiều hơn nhu cầu cơ thể
Ex: There is evidence that overeating is one of the main causes of obesity.
Ingredients – Nguyên liệu nấu ăn
Ex: The ingredients of the dish include nuts, raisins, and parsley.
Ex: Allergies are becoming more common, and this could be connected to diet. If I eat nuts, I have an allergic reaction. I can not breath properly.
Additive – Gia vị hoặc chất bảo quản
Ex: This food is full of additives so I'm not going to eat it.
Ex: Lots of exercise will prevent a heart attack.
Ex: When preparing meals, you need to think about variety and taste as well as nutritional value.
Appetite – Thèm ăn, khẩu vị
Ex: All that exercise has given me an appetite
Ex: A diet that is high in fibre is important in order to maintain a healthy body.
Ex: Regular physical exercise is important for good health 
Ex: Many people take vitamin supplements these days in order to keep their body healthy.
Diabetes – Bệnh tiểu đường
Ex: Diabetes is becoming much more prevalent amongst children.
Ex: Fruit has several health benefits.
Elderly people can have many health problems.
Deteriorate: trở nên xấu đi
Ex: The health care in the country is deteriorating.
Medical cost: Chi phí y tế
Ex: Health education is very important if we are to prevent illness and reduce medical costs.
Exercise: Luyện tập thể thao
Ex: Lack of exercise can lead to poor health.
2.Áp dụng trả lời Speaking Part 1
How do you do exercise?
Personally, I alternate between hitting the gym or taking gentle exercise at home. On days when I have more free time, then I like to exert myself by running on treadmills and lifting weights at the fitness centre, while on busier days, a simple morning jog or yoga at home would do.
Do you have any plans for exercise in the future?
Actually, I do have some in my mind right now. Firstly, I'm considering taking up a sport, something like boxing, but only for leisure and not competitively. Additionally, I plan to maintain my current fitness regime in order not to be out of condition.
Do young people in your country like to do exercise?
I suppose yes. Being fit rather than being skinny is a mindset that is recently catching on in my country. Therefore, many young people are trying to incorporate physical activities into their daily routine as well as adopting healthy eating habits to achieve their dream figure.